Weddings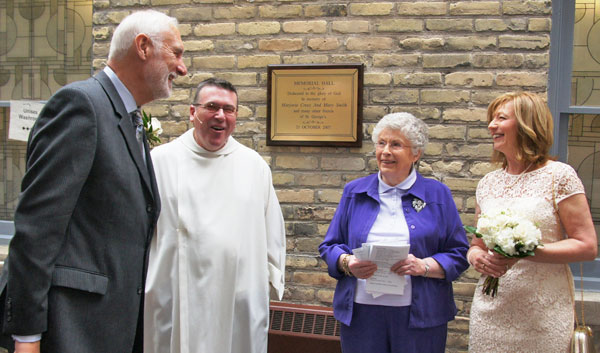 Marriage:
Beloved, let us love one another,
because love is from God;
everyone who loves is born of God and knows God,
for God is love.
God's love was revealed among us in this way:
God sent his only Son into the world
so that we might live through him.
In this is love,
not that we loved God but that he loved us
and sent his Son to be the atoning sacrifice for our sins.
Beloved, since God loved us so much,
we also ought to love one another.
(1 John 4:7-11)
Christian marriage is more than a lovely ceremony in a beautiful building, surrounded by family and friends. Far from it! Marriage is a sacrament in which the parties to the marriage dedicate themselves and their marriage to God's use so that God's grace and love can be experienced through their lives of love and commitment.
Christian marriage really is, then, a form of discipleship! Following the Lord Jesus with lives of faithful commitment, participating in the Lord's Body, the Church, witnessing in the community to God's activity in their lives; these are the hallmarks of this discipleship.
The days of just showing up to "book" a wedding in the future with no intention of making such a commitment to be part of the Church are, thankfully, long over. If you are searching for a community of faith to be a part of as you contemplate Christian marriage then you are welcome to begin by joining us in worship. You will be made very welcome!