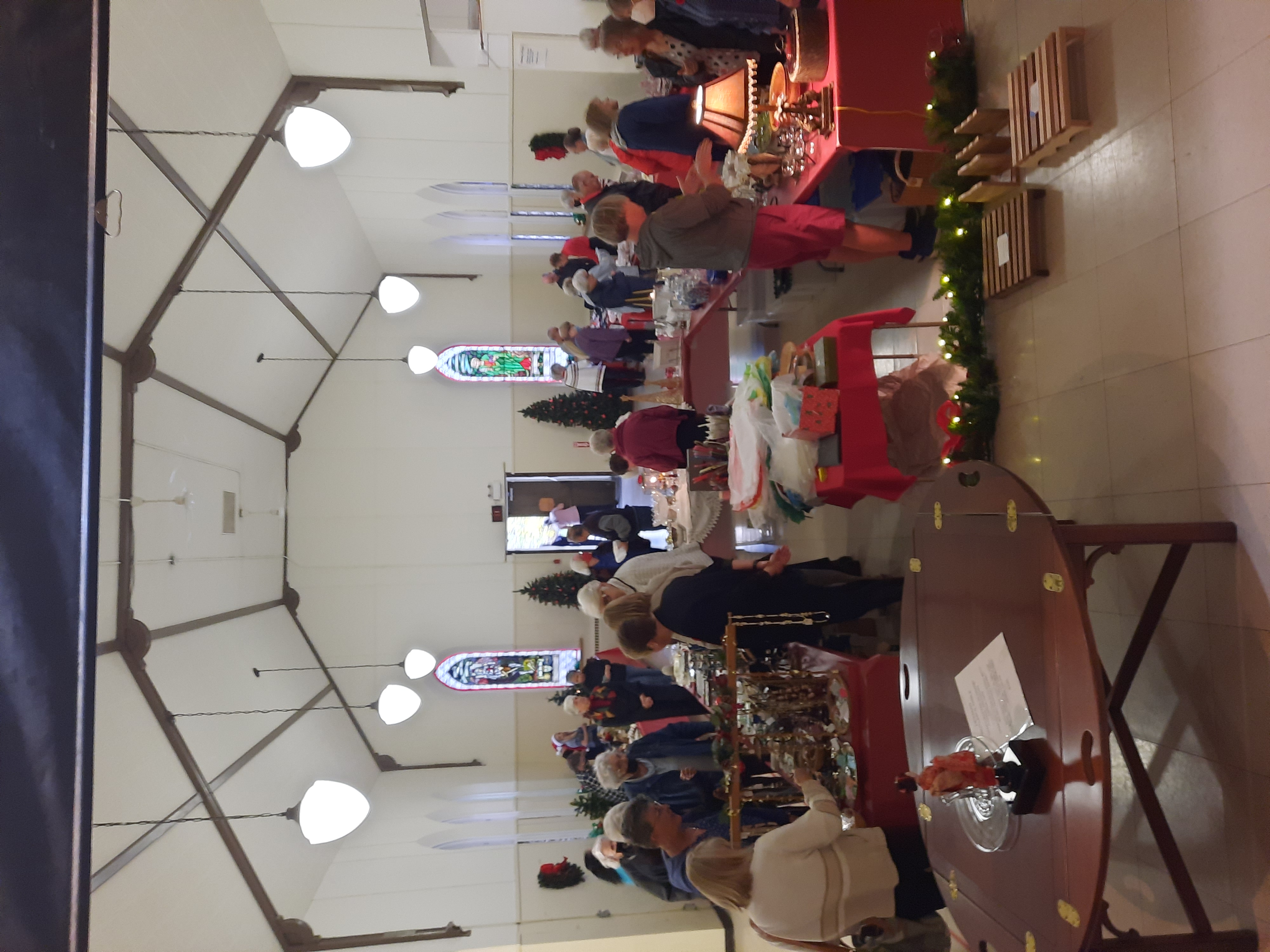 Galleries
History of the Amalgamation of All Saints' Parish,
Sarnia and Corunna, Ontario
"The believers were of one heart andsoul,
everything they had was held in common,
and great grace was upon them all.
There was not a needy person among them."
Acts 4: 32a, 33b, 34a.
As Canada grewfrom a colony into a country, and the population increased in certain growthareas in south western Ontario, two of the towns that were formed came to becalled Sarnia and Corunna and some of the settlers organized themselves fromhouse gatherings with itinerant preachers into Anglican parishes thateventually grew to six Anglican church buildings in Sarnia and one in Corunna.
For many yearsthe attendance at the organized churches continued to increase. Changes in lifestyles during the 1900s impacted church attendance negatively until, sometimeearly in the 2000s, as a result of growing concern among leaders and members ofthe Anglican Diocese of Huron, it seemed time, with God's guidance, for local conversationsregarding how to adjust to the changing demographics.
In the case ofthree of the Anglican Churches in Sarnia and Corunna, Ontario, including theparishes of Christ Church, Corunna, St. George's and St. John's, Sarnia, ourjourney towards amalgamation began in November 2008 when Archdeacon Salt calledthe six parishes in Sarnia and one in Corunna, which he paired into threegroups, to meet to discuss our various situations with regard to our agingcongregations and our diminishing number of members and how we might providesupport to one another.
Followingthat meeting, St. George's and St. John's, Sarnia and Christ Church, Corunna,formed a core committee of wardens and Rectors from the three parishes which wecalled the "Planning Group for Amalgamation", the PGA forshort.
Throughoutthe process reports were presented to the congregations on a regular basis tokeep them abreast of PGA's progress.
Amotion was presented, and carried unanimously, at the three annual vestrymeetings in January 2009 to determine if it was feasible and desirablefor us to continue the process of developing a closer relationship within thethree congregations.
ThePlanning Group's objective was to paint an action picture of what anamalgamated parish might "look like" as the first step towards possibleamalgamation.
As astarting point, it was agreed that it was necessary for our parishioners to"get to know one another" as a basis for determining how and if to go forward.
TheRector of St. George's, The Ven. Jim Dugan, Archdeacon of Lambton-Kent, drafteda "timelines" worksheet as a general guide to what and when certain steps wereto be undertaken.
Apivotal point in our journey was a retreat day for our three parish councils –a very positive beginning for any parish contemplating a major change – Rev.Jawn Kolohon provided strong leadership by introducing the three councils toeach other on a very basic level spiritually, worshipfully and socially – theinsights gained through this sharing convinced us all that our fit was good onall the important fundamental issues and they served to strengthen the parishleaders' conviction that we had a good basis for building an amalgamation planto present to our members.
Jointactivities involving our three parishes were undertaken in all areas of ourchurch life throughout our planning process.
SubCommittee groups of parishioners representing the significant areas of ourchurch life were formed to provide a forum for working together and developingfamiliarity among the members as well as to identify any insurmountableimpediments to our possible amalgamation.
Thisundertaking turned out to be a mixed blessing as members began deviating fromthe overall plan in an attempt to micromanage the ways a new parish shouldoperate. The planning group was able to help resolve most of themisunderstandings in order to bring the discussions to completion withreasonable conclusions and some positive recommendations for going forward
Thedifferences that were experienced pointed to areas needing special attention.One fundamental difference emerged regarding trust. Some outside assistance wasrequired to help us to understand and to begin building trust, an essential andtime consuming process, which took a lot of determination. Together, we turnedto God in prayer for guidance.
Themotion, at the January 2010 Annual Vestry meetings at each of the threeparishes, to plan for an amalgamation vote was carried.
Thebumps in the road that were encountered forced us to be open, honest, realisticand understanding – strengthening our basis for going forward, and ultimatelyresulting in a strong, amalgamated parish.
Thevoting date was set and published and ended in an overwhelming YES toamalgamate. The amalgamation would become effective on February 1, 2011.
Followingthe vote, we all joined in a service of thanksgiving.
Following the completion of the service, weadjourned to the parish hall to choose the name for the new parish – everyoneappeared happy and greeted each other enthusiastically.  The names nominated by the parish membersthat were acceptable to the Bishop were posted on the walls around the room.Good spirits erupted on all sides and there was much laughing and chanting ofour chosen names to try to persuade others to join with us.  In the end there was a motion to make thename choice of All Saints' unanimous and it was carried with muchcheering.  We experienced a unique movingof God's spirit amongst us and we are still commenting on how good it was tofeel ourselves being drawn together.
We viewed our transition period, as we worked tobecome a strong, integrated parish, as a critical time for us. Our next stepswere to form a Hospitality Group to act as hosts and hostesses throughout thefirst transition year.  Particularattention paid to planning events, the provision of name tags for all ourmembers, ensuring the inclusion of all in the activities, having welcominggreeters at services, PGA members mixing with the crowd at coffee hours andgenerally "working the room" whenever we were together. This was our oneopportunity for our three congregations to meld into one strong parish and wewere committed to working hard on our transition.
The planning committee appreciated thestrong support of our two Rectors, Archdeacon Jim Dugan and Canon Nick Wellsthat was invaluable. They gave generously of their time and considerabletalents and we thank God for their guidance throughout this journey.
The success of any amalgamation dependsheavily upon strong support and guidance from the Rectors of the participatingparishes in addition to strong lay leadership.
Our Rectors have guided us through aninteresting mix of worship styles flavoured by specialty presentations bothmusically and dramatically.
Since amalgamation, All Saints' Parish inSarnia and Corunna has continued to strengthen both socially and spiritually.
Enthusiasm is evidenced in the new Parishthrough strong numbers of regular worshippers at weekly services and generalparticipation at all types of meetings. There is a general willingness ofmembers to volunteer their time and energy to proposed projects. We enjoyworking together in activities such as reaching out to others through ourMission Group and fund raising by presenting coffee hours and bazaars to thepublic.
We haveexperienced God's guidance throughout our amalgamation process and are thankfulthat, by His grace, All Saints' Parish, Sarnia-Corunna, is a vibrant, active,fun-loving and welcoming parish.
Come and see foryourself some Sunday!
June 2017