Staff
The Reverend Canon Steve Harnadek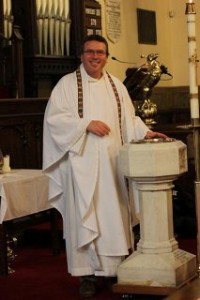 "You are a chosen race,
a royal priesthood, a holy nation,
God's own people,
in order that you may proclaim the mighty acts of him
who called you out of darkness into his marvelous light.
Once you were not a people,
   but now you are God's people;
once you had not received mercy,
   but now you have received mercy."
(1 Peter 2:9-10)
"What an exciting place this is!" is a sentiment I often feel, both when I am in Corunna and in Sarnia; in worship, fellowship and even during meetings. I have discovered this Parish to be a place where people want to be, not out of a sense of duty, but because we delight in one another and in what the Lord is doing in our midst. "What's God got for us next?" is often a question that runs through my mind.
We are blessed to be a Parish with strong leaders who are earnest in seeking out and following God's will. It is a blessing to be with people who live out their baptism alvows by using the gifts that God has given them for the benefit of the people of God, both in the parish and beyond. I see this vividly when people step forward and offer themselves for ministry, whether it's to visit a home bound parishioner, to assist in the leading of worship, to join the Choir, to feed the hungry at our local food bank, or to help lead us in some specific task.
It is often said that 3 characteristics of a healthy Parish include inspiring worship, regardless of rites or books; having fun together, mixing with folks rather than staying in our little clique; and, finally, handling conflict well, which is also a hallmark of our Parish."Thy will be done" supersedes "my will be done."
So, what's God got for us next? Together, we'll find out, as we journey together in the faith we share in the Lord Jesus Christ.
Your brother in Christ,
Steve Harnadek,
Rector, AllSaints' Sarnia-Corunna
The Reverend Deacon Mary Belnap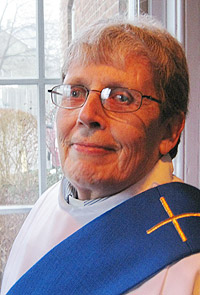 1. How long have you been attending All Saints' Anglican Parish? Prior to amalgamation, where did you attend services?
I have been a member of All Saints' (formerly St. George's) since 2003. On October 26, 2008, I was ordained.
2. What are you involved in at All Saints'? (Tell us about you and the programs you are involved in.)
Resources
•   Liturgical presence/preaching
•   Funerals (non-church)
•   Member of Poverty Reduction Network
•   Member of Consumer Liaison Committee (Sub-Committee of Community Legal Assistance Sarnia)
•   Member of Habitat for Humanity, Sarnia-Lambton
•   Member of Diocesan Social Justice Committee
3. Why did you choose to become involved in the program or services mentioned above?
When I took early retirement in 1988 I chose to become involved in social justice issues because I saw the tears and heard the cries of the poor, of the disabled, of the victims of domestic violence, and of the aged languishing in their beds of hopelessness, helplessness and loneliness go unheeded. These before all others, we are to love them by serving, not by patronizing them.
4. What inspired you to get involved? What or who has been your greatest inspiration? Why?
Ever since I was 12 years old, I have identified myself with the marginalized, just as Jesus himself came to live and mingle with the poor, the sick, and the powerless – all those whom the rest of the world customarily dismiss with contempt. At all times, our life and our teaching are to show Christ's people that in serving the helpless, we are serving Christ himself. My mother was my greatest inspiration because as a family, it was our tradition to find a needy family and give gifts and food especially at Christmas.
5. What one thing would you like everyone to know about you?
I am a social justice activist.
Mr Larry Pajuk, Organist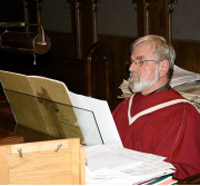 Larry Pajuk began studying piano at the age of nine, with Louise Pearce (Chilton), in London, Ontario. In 1958, he won the University of Western Ontario second place silver medal for Grade 9 piano, in Ontario. He commenced organ studies initially with Edward Daly, Ed Hysen, William Wickett, and lastly with Gordon Atkinson, and became second assistant organist at St. James Westminster Anglican Church in London, Ontario.Under Gordon Atkinson's tutelage, Larry won 3 consecutive annual Kiwanis Music Festival scholarships for organ studies.
He was organist/choir director at St. George's Presbyterian Church, London, Ontario for 9 months, organist/choir director at St. Anne's Anglican Church, Byron, Ontario for 6 1/2 years, organist/choir director at St. Martin's-in-the-Fields Anglican Church, London, Ontario for for 4 1/2 years, and then All Saints' Anglican Church, London, Ontario for 16 years before moving to Sarnia.
He became assistant organist at Canon Davis Memorial Anglican Church, Sarnia, Ontario, and then organist/choir director for 12 years before accepting a position of organist/choir director at St. George's Anglican Church here in Sarnia.  St. George's amalgamated with St. John's Anglican Church, and with Christ Anglican Church, Corunna, and as of February 2011, the three parishes became one as All Saint's Anglican Parish.  St. John's has subsequently closed, and Larry is currently playing as senior organist/choir director (in more ways than one!) at the Sarnia site of All Saint's Anglican Church (formerly St. George's Anglican Church).
Mrs Lois LaFond, Organist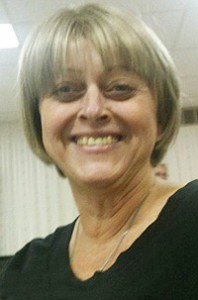 Lois has been attending All Saints' Anglican Parish since it amalgamated in February 2011. Prior to that she attended St. John's from January 1991 until it closed.
She is the co-musical director at All Saints', working specifically in Corunna. She enjoys piano, organ, singing and working with members of the church and congregation. She's also interested in Mission and Outreach in the community.
Lois says God directed her to St. John's, "…and the rest is history". God being her life and inspiration, her hope and example.
Mrs Valerie Garant, Secretary
I grew up associated with the Canadian Military.  My father was in the Canadian Armed Forces, and as a result we moved around a lot.  (Edmonton, Whitehorse, Victoria & Chilliwack.)  I consider myself very lucky as I was able to live and grow up in The Blackforest –  Lahr, Germany.  I spent 17 years there in total.  I also married into the Canadian Military.  Still moving around (Comox, Kingston, Vancouver, Calgary & Ottawa) we were then moved to Mons, Belgium, where we spent 4 years.  I am truly blessed to have had that opportunity.  We returned to Sarnia upon retirement.  My spouse is retired from the Canadian Military and I call this my pre-retirement job. (smile)  Monday to Friday mornings.   I started working here in June 2007.  This is one of my favorite jobs.  I work with and for many wonderful people.  It is a pleasure coming in to work every morning.